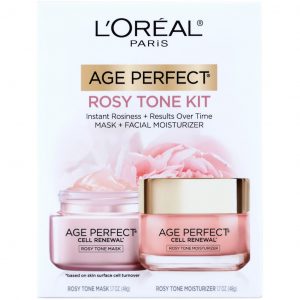 I have used L'Oreal Paris products before, so I was
excited when I received samples of the Age Perfect Rosy Tone Mask and Moisturizer to review.
While I don't exactly identify (yet) to Helen Mirren, I am supposedly in the "mature skin" range so I decided to give it a go…
Who's it for?
It's marketed for mature skin, and is supposed to give it that "healthy, rosy, youthful glow".
According to L'Oreal, the Imperial Peonny Extract and LHA's in the mask
,
work to slough away the dead skin cells and reveal a renewed skin surface.While the day cream has a (very) pink tint to it, which add to the "glow" to give you that just scrubbed look.
How do you use it?
After washing your face, apply the mask in circular motion to gently exfoliate and leave on for 5 mins, then rinse off and apply the moisturizer.
Does it work?
I wanted to like this, but to be honest I was very disappointed.
The mask was slightly irritating to my skin. I usually am not sensitive to fruit acids, but I could barely last the full 5 minutes. As if the burning sensation wasn't enough to get me to rinse, the smell definitely was.
As a rule, I do not like scented products on my face, but this went to the extreme – I was so bothered by it that I had to wash my face twice more with a different product just to stop from smelling it.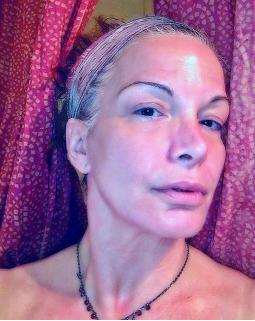 The day cream, although it felt silky smooth, and not as heavy as I thought it would, left my face a little too "rosy" for my liking and made me look as if I just had a chemical peel.
Not exactly what I was hoping for.
Sorry, L'Oreal, for me this was not a hit, but a big
miss !
Have you tried any products like these?
Join the conversation in the comments below and let me know what you thought of them?
As always, if you enjoyed this review, please show your love by subscribing to my blog.
till next time………
* I was given these samples in exchange for my (albeit, brutally) honest review.
The opinions expressed above are my own.
25d2c8845ac899c5f78b6ab9648897df92cd7b02961352a0c7