There's no getting around it, getting old sucks!
The wrinkles, the weight gain, the aches and pains… but nothing is as painful as watching your "senior" dog getting old. This is something that I've had to endure recently and it kills me.
My 10 year old golden/ lab, Dita Von Dog, who has been my sidekick through all my adventures and all my road trips has the beginning stages of arthritis.
I noticed when I came back from Austin that she had been limping around and it's really painful for her in the morning and at night (just like anyone else with arthritis.)
So like any other good mom that doesn't want to see her baby in pain, I went on the prowl to find her some relief. I don't want to put her on prednisone (I had to wean her off it last time she went to the vet) so I searched for something less invasive.
What I found that really seemed to check all the boxes were these "glucosamine chews " from Ruff Hero. Here's why:
Glucosamine – vet-recommended to ease inflammatory pain
Chondroitin – widely used to repair cartilage & alleviate joint aches
Organic Turmeric (Curcumin) – believed to fight harmful free radicals & painful inflammation
Organic Hemp Seed Meal – may help calm your pooch while soothing away aches & pains
Organic Black Pepper Extract – designed to help boost absorption & bioavailability, so all other ingredients can work together better
Plus they're in a soft chew, so I'm not crushing up pills and sneaking it into her food. Also it's not just one of the best sounding ones but also not too hard on the wallet because you get about 120 chews for $29.99 ( that's about 2-3 months worth depending on how much your dog weighs).
She's been on them about a month and a half and I can see a big difference already.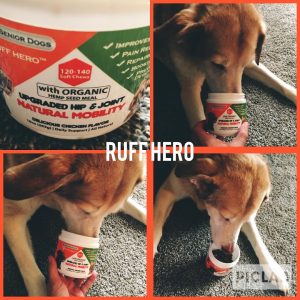 It made me wonder if all of these were created equal ( I can tell you that this one was leaps and bounds better than the last one I tried!) and since I think you should know the good ones from the bad, I'll be trying more and reporting the results. Tune in next post, and I'll tell you the bad ones that were replaced by these from Ruff Hero. But for now just be grateful that I've already put in the work for you and pick some up for yourself here: https://www.ruffhero.com/product/glucosamine-for-dogs-health-supplement/