I've been purchasing makeup tools for my personal use lately, my kit is stocked so now it's time to take care of me! Being that I'm getting older and spend about 80 percent of my life with my face in my phone, I thought a good magnifying mirror was the way to go.
My latest purchase was a Trifold Table Makeup Mirror
here's why; it's got 4 different magnifications 10x/3x/2x/1x, (so I can see EVERYTHING even without my glasses on, it folds up for easy travel, and rotates 180 degrees, and has 21 LED lights powered by a usb cord which is included or 4 AA batteries (for on the go makeup).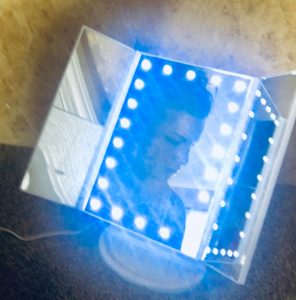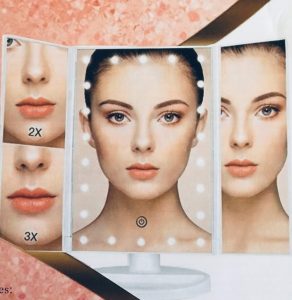 While I like the ability to see all my flaws in different magnifications, (lol) the one drawback for me were the LED lights which I didn't feel put out enough to actually illuminate the face and I noticed that I kept turning the mirror towards the window for a natural light source.
All in all , I like the mirror and think it's a great value for the price, I just wish the lights were bigger.
I also wanted to use this as my own personal beauty dish by attaching my phone holder to the mirror , but again this was not bright enough.
To get yours visit this link ;
http://www.amazon.com/gp/product/B07L2RHCK7