Just a quick video tutorial from my new Maange eyeshadow palette.
A super affordable palette with 18 highly pigmented shadows in my favorite fall/winter colors. (So if you're a ginger like me, you'll definitely want to scoop this up!)
Get yours here: http://www.amazon.com/gp/product/B07GRRDTZ2 #ad
It's only $9.99 a perfect price point for beginners and has everything you need for a day to night look.
I started with "creamy" and applied it from lid to brow for an all over clean slate
Next I applied "vampire" on the outer and inner corner
Then I applied "volcano" in the crease
I added a light dusting of "blazing" to blend the crease into the outer corner
I lined my upper lid with a black liner pencil
I went over the pencil liner with "bronze" to soften the line and continued the bronze color under my eyes to add a bit of a smokey look
Then to soften and blend everything together I took a light dusting of the "creamy" color I started with and did a "whitewash" effect from lid to brow.
And that's it, add a couple of coats of mascara and you have a super simple daytime look.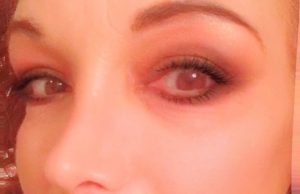 If you enjoyed this tutorial please subscribe to my blog and my other social media accounts!
my blog:
http://dyanaaives.blogspot.com
Youtube:
https://www.youtube.com/user/daives
Snapchat:
snapchat.com/inurfacemakeup
Pinterest
pinterest.com/inurfacemakeup2
Facebook
facebook.com/Inurfacemakeup
Twitter
twitter.com/inurfacemakeup
Instagram
Instagram.com/inurfacemakeup
Linkedin
.linkedin.com/in/dyanaaives
Dyana Aives' IMDB resume
http://www.imdb.me/dyanaaives
*"I received this product at a discount and in return I wrote this honest review, however all opinions expressed in this post are my own"